Key Club Carnation Sale. Support Key Club and the Children's Miracle Network. All carnations will be delivered on Valentine's Day, February 14th.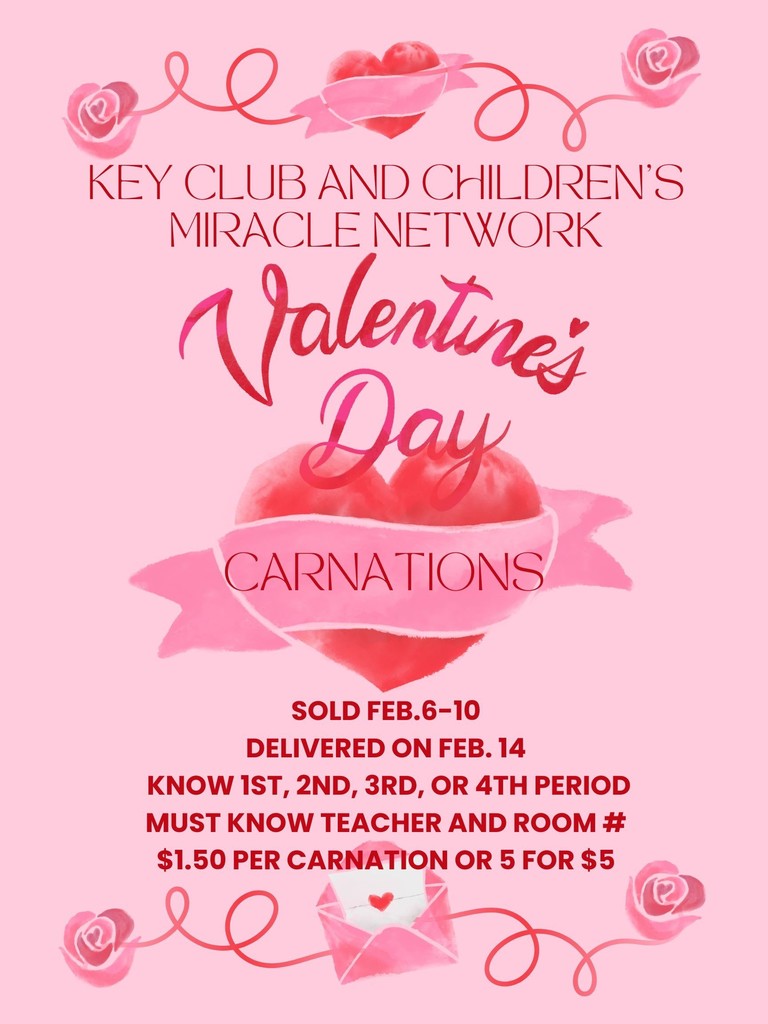 Resume 101 Workshop Thursdays starting February 9th- March 9th during Advisory in the Career Center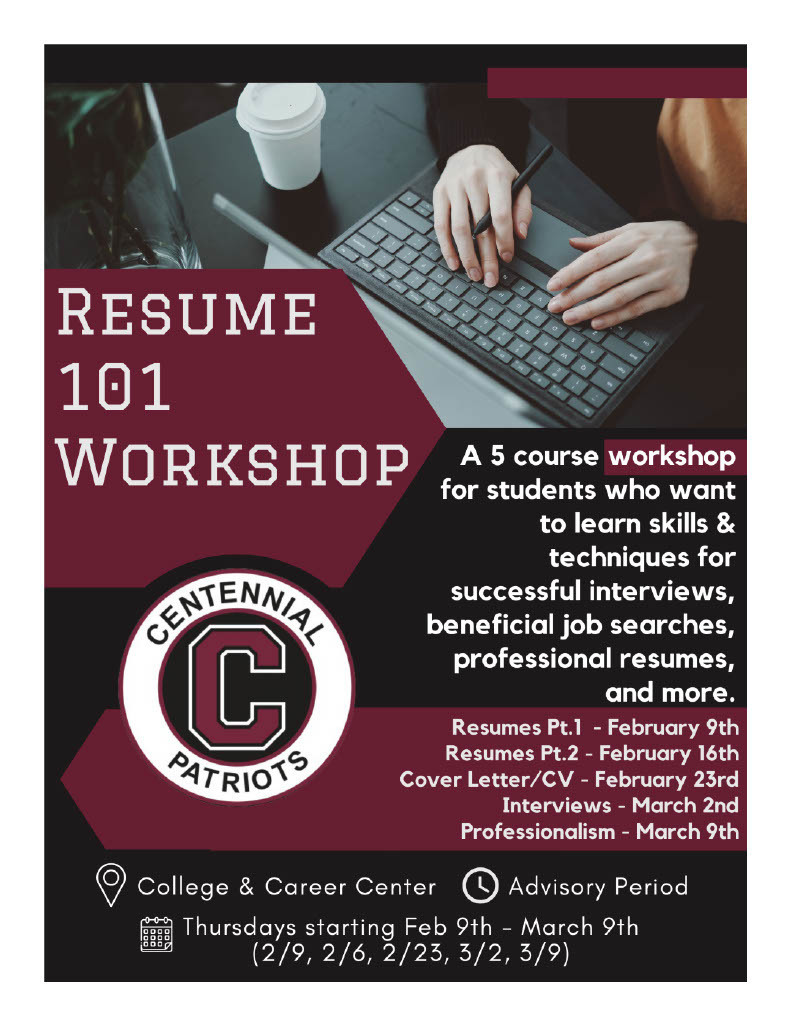 World Languages Department International Cuisine Night. Wednesday, March 29th, 2023, from 5:00pm to 7:00pm in the CHS Social Center. All current World Language students and Language Club students are welcome.
Parents of CHS Students.... Want to find out about Advanced Opportunities for your student? We are excited to announce our 1st Annual Get Ahead and Get Involved event! When: Monday, February 6th, 2023 at 6:00pm Where: Centennial High School Who: All 8th, 9th, 10th and 11th graders as well as Parents and Guardians Why: Come and get to know all about the amazing opportunities we have available at CHS.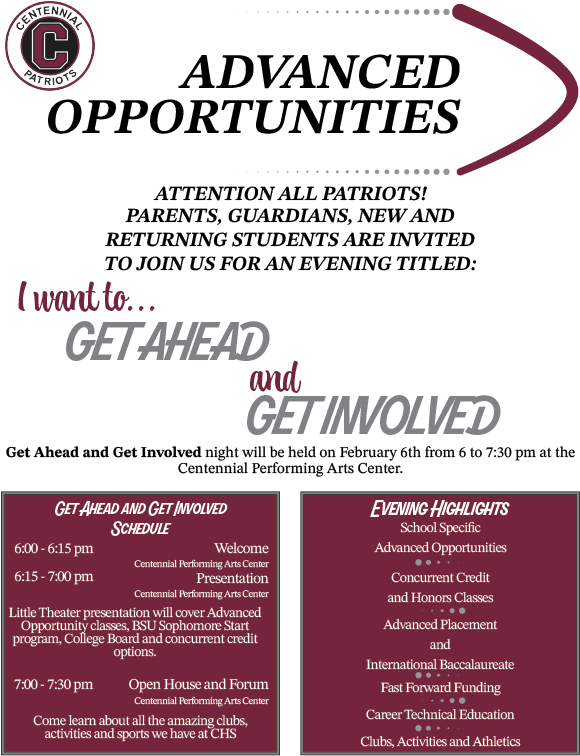 West Ada College and Career Fair February 17th 9:00 am to 1:00 pm @ Rocky Mountain High School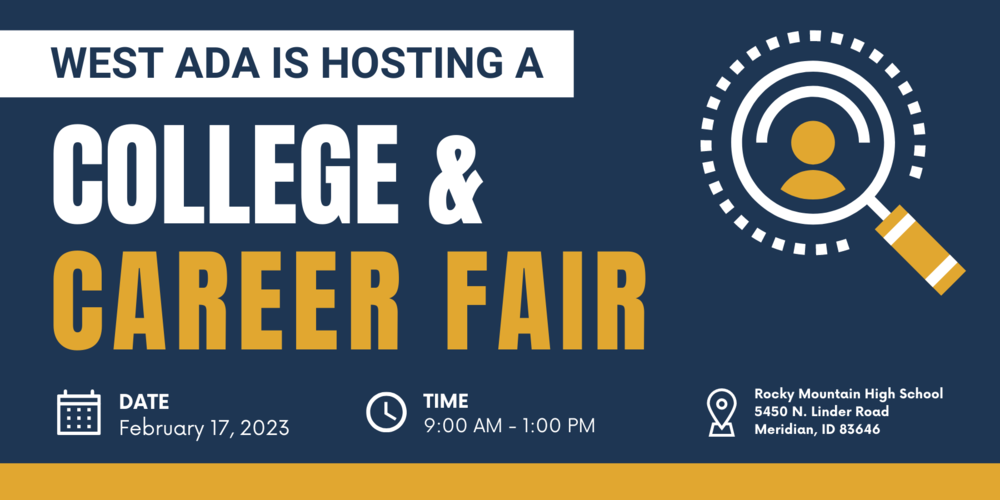 February 6 - Advanced Opportunities Night from 6:00-7:30 at CHS (I've attached a flyer that if we could connect to the event somehow, it gives more details!)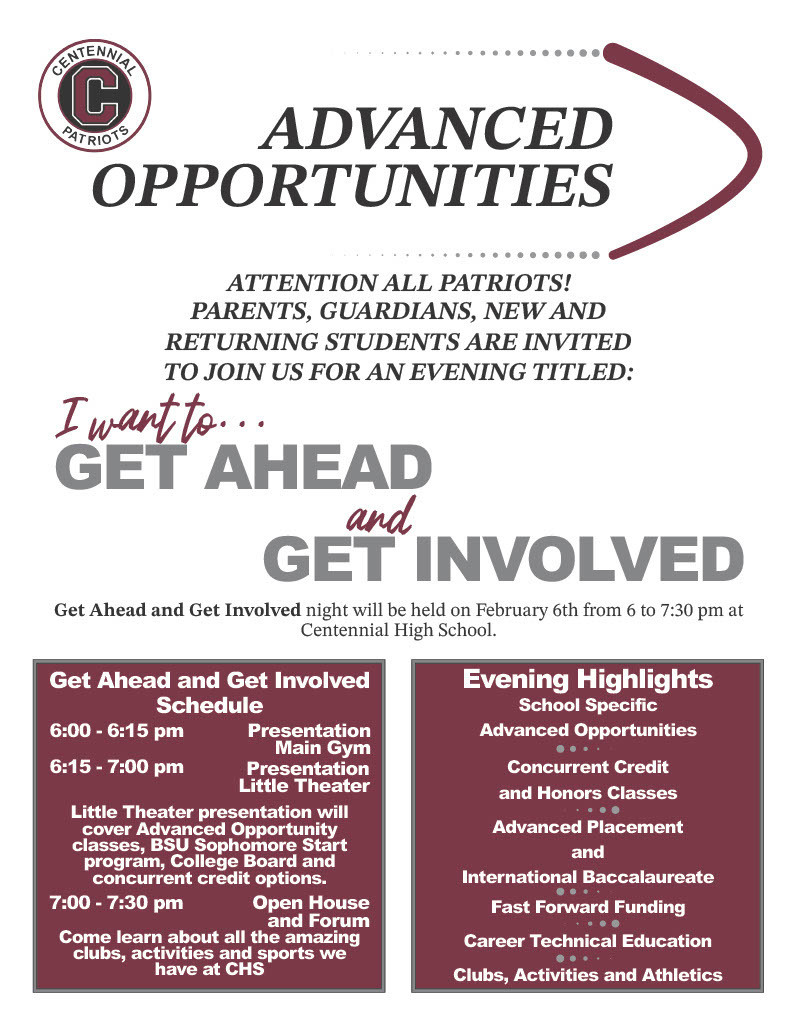 Good Morning West Ada! Due to today's inclement weather, school has been canceled and no classes will take place. We ask that families and students stay safe, rest, relax or enjoy one another's company, read a good book and get outside to play and sled if it is safe to do so. Hot chocolate is also a good option! Enjoy a safe snow day! - Superintendent Bub

Class of 2023 Graduation Date: May 27, 2023 @3:00PM Where: BSU


Looking for a JOB?! Look no further...Centennial has openings for Student Cleaners! Days and Hours are Flexible. Please see the attached flyer for more information.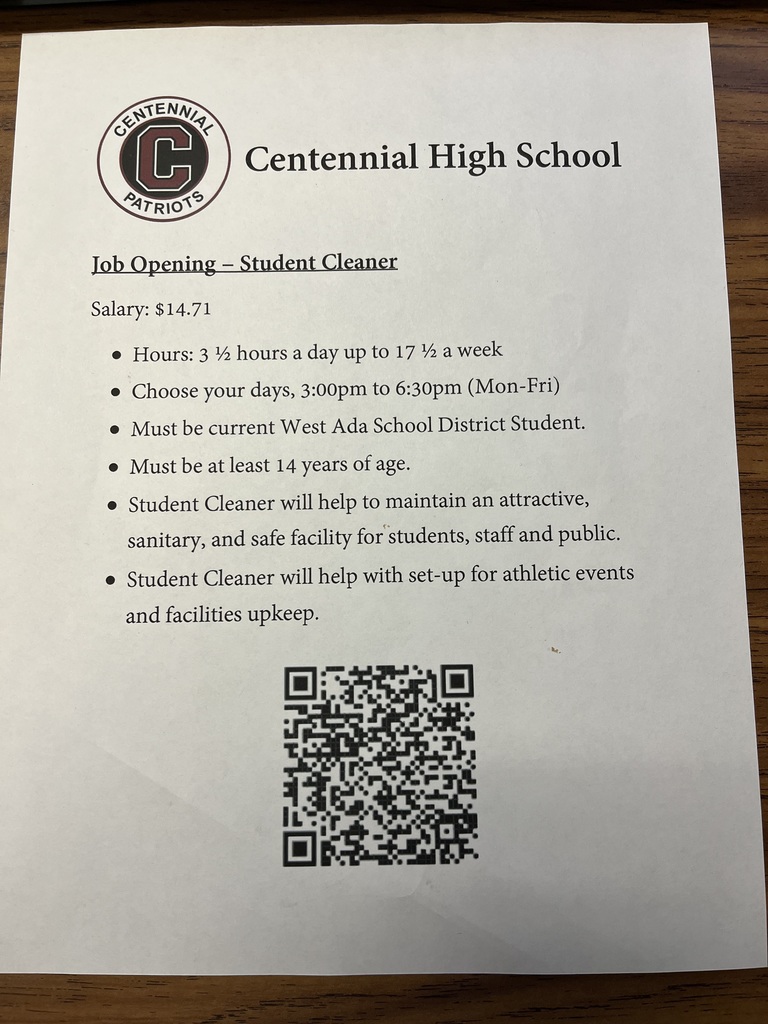 Support Centennial High School through the WASD Raffle See link below to conveniently purchase tickets online with a credit/debit card. Check out the QR code below. You can also purchase your tickets at the CHS Bookkeeper's office with cash, check, or card (3.5% convenience fee will be applied). Copy this link into your browser bar to purchase tickets...
https://secure3.myschoolfees.com/guest_home.aspx?sid=189&feegroupid=3061&feeid=7517

Come see Image Factory's fall production of Daisy Pulls It Off! This 1920s romp centers around plucky Daisy Meredith, a new scholarship student who is forced to face and overcome snobbish prejudice and pranks from the wealthier girls at the exclusive Grangewood School for Young Ladies. Along the way she and her best friend, Trixie Martin, search for missing treasure, overcome false accusations and discover the mystery of the school and Daisy's long-lost father. Daisy Pulls It Off runs October 26-29 at 7pm in the Little Theater with an additional matinee at 1pm on October 29. $7.00 students/seniors, $10.00 adults.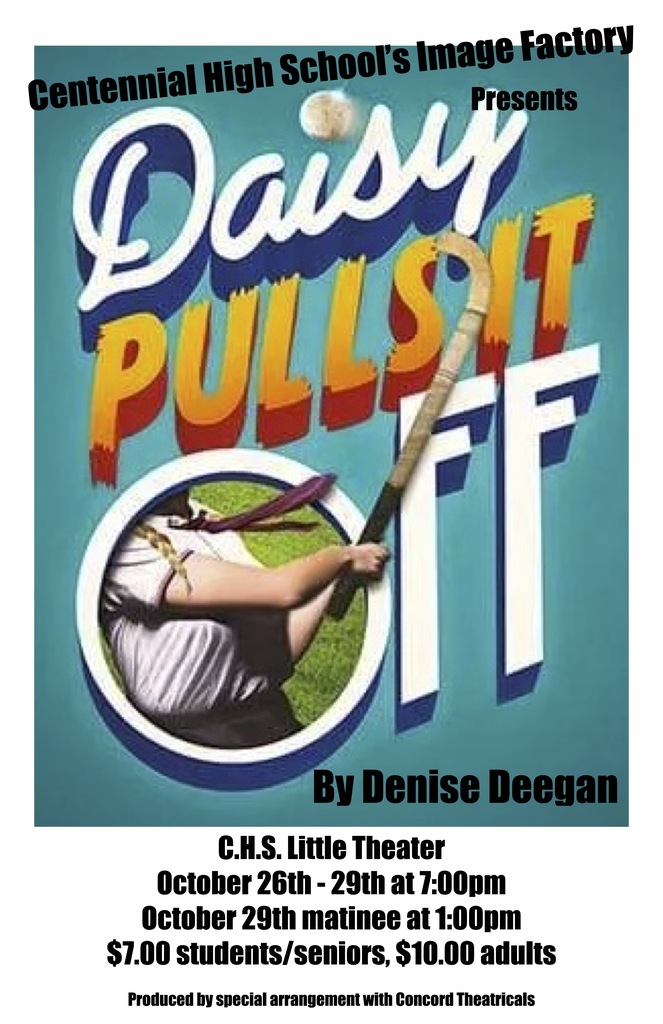 Centennial High School Presents: Les Misérables When: November 9, 10, 11, & 12 Where: Centennial Performing Arts Center Time: 7:00 pm

See Tell Now

FREE English class are Centennial High School!!! Childcare provided for children ages 3-10 and potty-trained.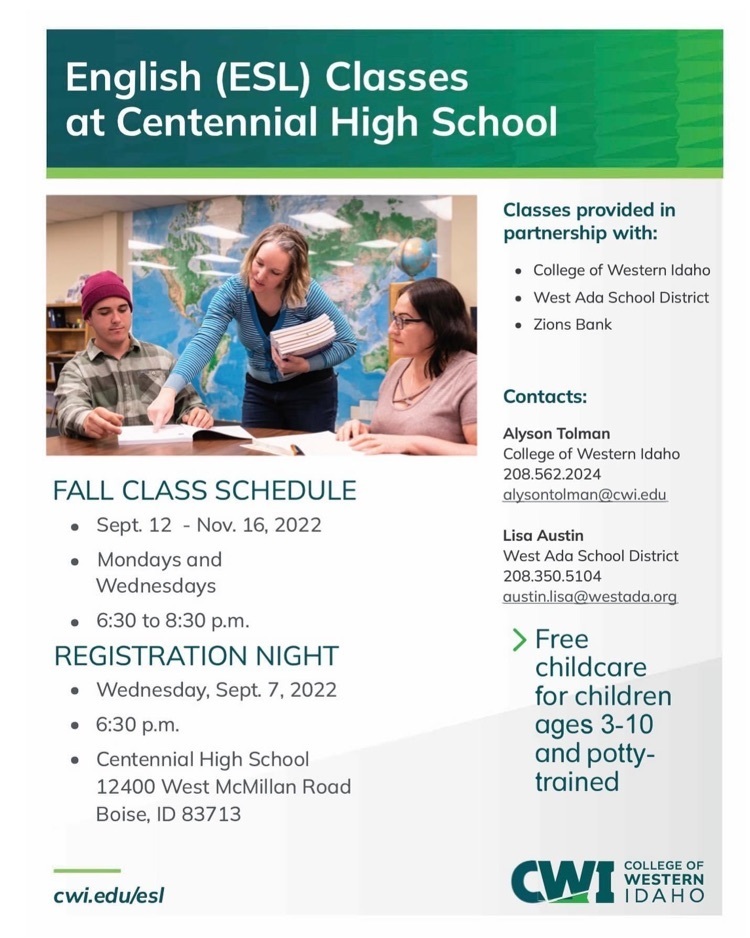 Westy, Is West Ada's school districts school nutrition mascot… he loves fruits and veggies and making sure every student eats their lunch. He was at Desert Sage this week enjoying whole grain chicken nuggets, baked french fries, fresh apples and 1%milk. Be sure to watch for some Westy Wisdom about nutrition coming soon….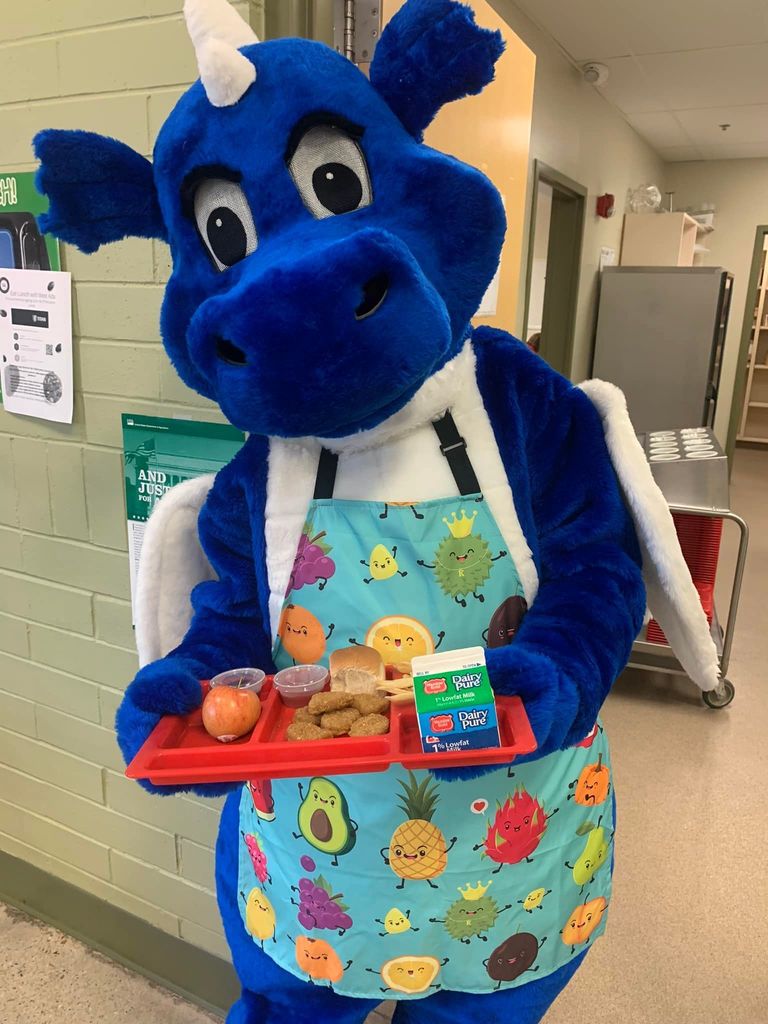 Patriot Picture Day August 25th and 26th - Please visit
https://mydorian.com/order/
or pick up a picture packet from the CHS front office. Thanks!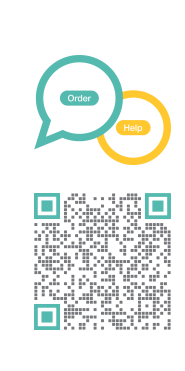 Buss Schedules for CTE and the New West Ada Transit System are available for download from our Timely Topics section of the website.
Good morning! Welcome to Centennial High School! We are looking forward to meeting all of you. With that said, we have a little orientation planned for all incoming 9th graders and new students. This event will take place Thursday, August 11th from 9am to 12pm. We encourage parents and guardians to drop their students off at 9am and return at 12pm. Students will be grouped up with their grade level peers and student mentors for the entire morning. We look forward to seeing you all very soon. Have a great weekend! Go Patriots! CHS Administration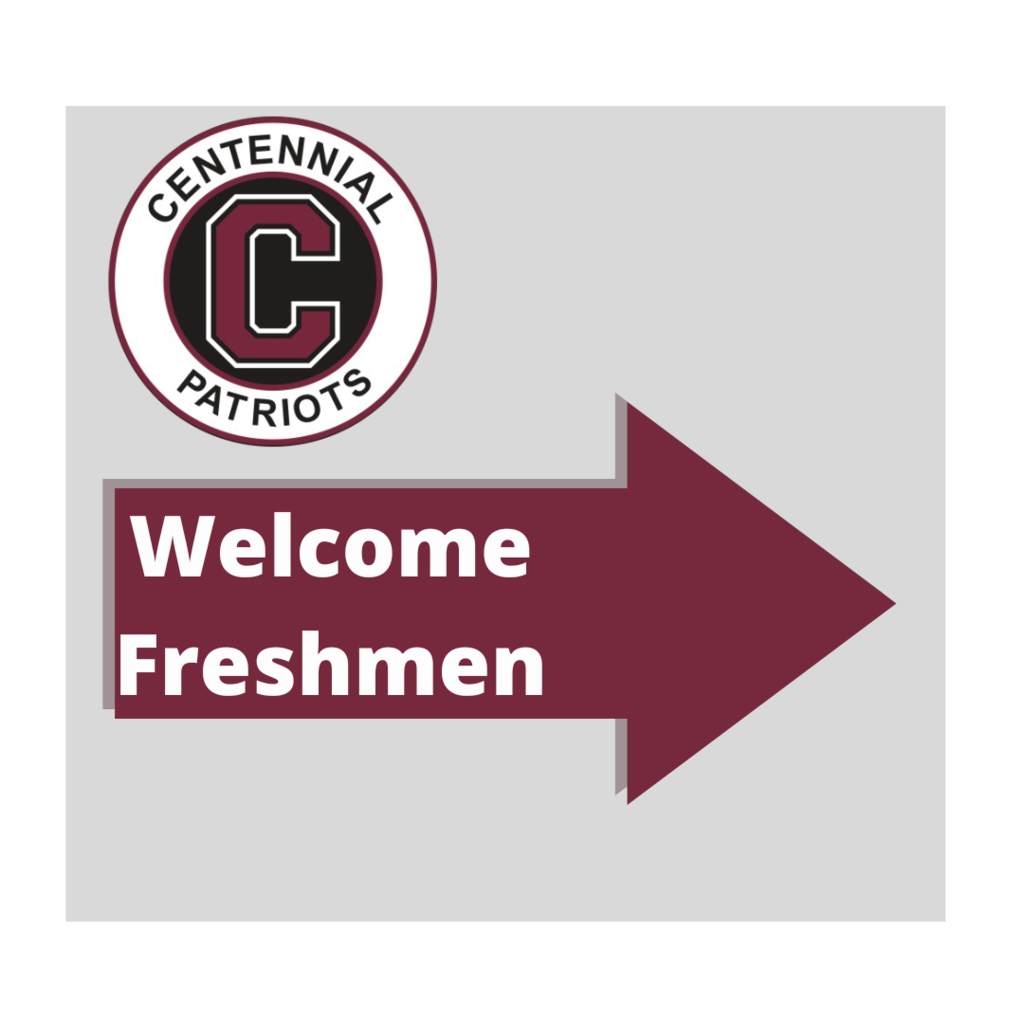 For those families interested in or in need of transportation (bussing) 🚌 for the 2022-23 school year, the transportation form MUST be submitted in PowerSchool no later than Friday, August 12 to secure bussing for the first day of school. After August 12, families will have to wait until September 12 to receive a bus route and transportation information for their child(ren). We thank you for your assistance and cooperation in this matter to ensure that all bussing runs smoothly and effectively for the start of the school year. At this time, families who have already completed the transportation form in PowerSchool are receiving route information in PowerSchool on average, in 3-5 days. Please make every effort to take care of this in a timely manner, should it apply to you and your family.