West Ada Transit System (WATS)
West Ada Transit System (WATS)
New this year is the West Ada Transit System (WATS). This is a school bus system that operates like a city bus with designed stops towards it's destination. These stops are at every Elementary, Middle and High school in the West Ada school district.
Who will use WATS?
The system is intended for students needing transportation to/from their home address to RHS, IFAA, CTE (AM or PM), Academies, EL students who attend Centennial High School and Charter school students (MMACHS and MTCHS) . Students in these programs will board a bus at the school closest to their home address for transportation to Meridian High School, our "WATS Terminal". From this hub, students will then board a shuttle bus to their destination school. In the afternoon, all WATS shuttles will run from schools to MHS where students will board their WATS bus to return them to the school of their choice, closes to their home address.

All other students should have traditional bus routes noted in PowerSchool if transportation was selected prior to the August 12 deadline.
The are 9 WATS lines to cover the district. Below are the current schedules. These schedules will change as ridership is determined, so return frequently to observe any changes.
In reviewing the WATS transportation lines and times below, students and families should select the route that is closest to their physical address and may pick up a WATS bus at any school site nearest them.

EXAMPLE:

I am a Renaissance High School student and the school closest to me is Christine Donnell.

Find Christine Donnell on the transportation schedules below. It is located on the "Lake Hazel Line".

The schedule below indicates a WATS shuttle will pick up at Christine Donnell at 6:23am to take me to Meridian High School and then to my final destination, Renaissance High School arriving to RHS at 7:23am.

In the afternoon I will leave RHS at 2:46pm and return to Christine Donnell at 3:37pm.

Do I need to take the same WATS bus to and from school?

No, students may take different WATS routes at their convenience for families who co-parent, participate in extracurricular activities, etc.

Do I need to be registered to ride WATS?

No, all West Ada students are eligible to ride WATS - simply show your student ID/badge.
Click here for a Printable WATS Schedule
Updated WATS Routes below and linked above go into effect on January 4, 2023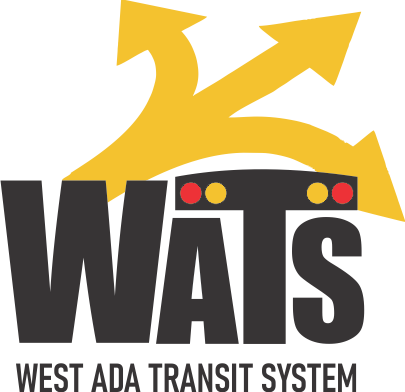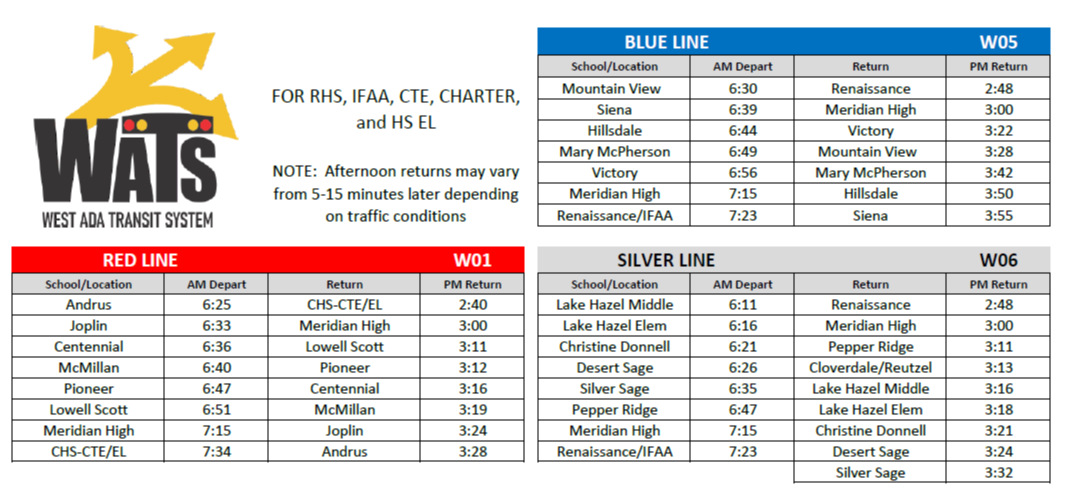 West Ada Bus and Non-Bus Zone Maps
Please refer to the lists below regarding school site bus and non-bus zones. Maps indicate neighborhoods that are within walking distance of a school as defined by state law and safety guidelines and outlined in district policy.