Any child in Idaho may attend preschool through 12th grade, provided that upon admission the parent or guardian provides proof of immunization status. Proof of immunization status may include a medical record outlining the necessary and completed immunization requirements or an Exemption Form or a Conditional Admission Form (if applicable) verifying that the child has received or is in the process of receiving (Conditional Admission) immunizations as specified by the state board of Health & Welfare. Any student enrolling, transferring or returning after withdrawing must show verifiable documentation of immunization status at entry or re-entry. Proof of immunization status is also required at 7th grade and 12th grade when additional boosters are required.
West Ada follows Section 39-4801, Idaho Code: Idaho Department of Health and Welfare Rules, IDAPA 16, Title 02, Chapter 15 and Idaho State Law (39-401).
Please refer to this link or to your primary care physician for more information: https://healthandwelfare.idaho.gov/Health/IdahoImmunizationProgram/SchoolandChildcare/SchoolRequirements/tabid/3785/Default.aspx
Need Immunizations?
Contact your primary care provider or refer to the West Ada Web site for
some of the many community resources. For more information, visit the hyperlinked page, and scroll down until you see the "Need Immunizations?" dropdown: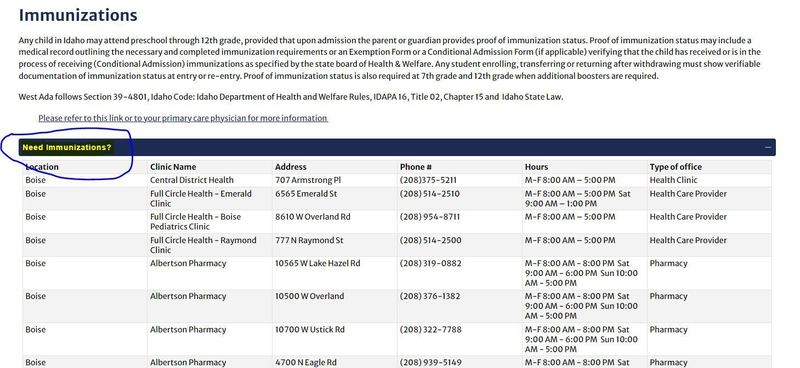 Lost or Missing Immunization Records
The Centers for Disease Control & Prevention website also provides information regarding lost or missing immunization records. For more information and recommendations regarding immunization records, visit: https://www.cdc.gov/vaccines/hcp/admin/immuniz-records.html