West Ada School District is hosting a Classified Employee Career Fair. 💛💙 Jumpstart your future career and join us on Wednesday, May 31 anytime from 4:30-6:30pm at the District Service Center - 1303 E. Central Drive in Meridian. Current positions available: • Custodial, maintenance and grounds • School nutrition services (food service) • Special Education Teacher Aides (paraprofessionals) Contact Jennifer Fletcher at
Fletcher.jennifer@westada.org
with questions or for more information or head to our website:
https://www.westada.org/page/recruitment-and-retention
#wearewestada #proudtobewasd #lovewhereyouwork

@renaissancehs student Andrew Gordon will work alongside NASA subject matter experts at this year's STEM Enhancement in Earth Science (SEES) Summer High School Intern Program. This nationally competitive program is sponsored by NASA, the Texas Space Grant Consortium and the University of Texas at Austin Center for Space Research and is designed for highly-motivated high school students, pulling applicants from across the country. Selected students receive exposure to Earth and space research while learning how to interpret NASA satellite data alongside scientists and engineers. Gordon was inspired to apply for the SEES internship while participating in a variety of courses through the West Ada School District's Career & Technical Education (CTE) Program. He will graduate from Renaissance High School's International Baccalaureate Career Program in 2024. In addition to the SEES internship, Gordon was accepted to take part in the Idaho Science and Aerospace Scholars (ISAS) Summer Academy, a residential summer program that also engages with NASA-developed curriculum. #wearewestada #proudtobewasd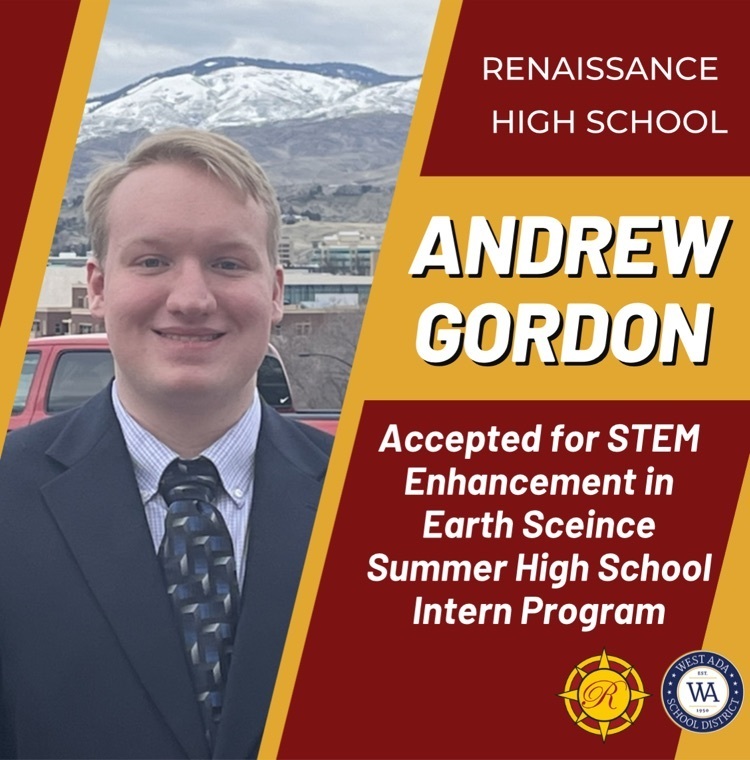 Why eat with West Ada? Let us show you why as we compare beef tacos 🌮 from school nutrition services to those from a store. #wearewestada #proudtobewasd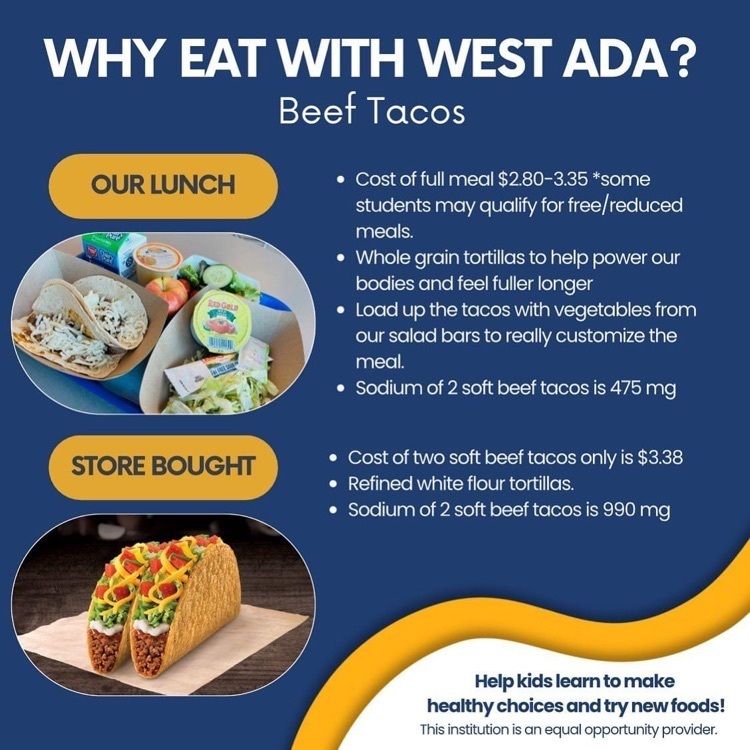 West Ada School District is hiring eligible students for seasonal grounds 🌳 and custodial 🧼 work during the summer. ☀️ • No experience necessary • No formal qualifications • On the job training provided • Pay starting at $14.71/hour Apply today at
www.westada.org
and click "Join Our Team"

THIS crew right here….100% passing their state Technical Skills Assessment for Early Childhood Education PLUS three national Child Development Associate candidates! We're not even finished with the semester yet, and I know they're exhausted (sometimes crying) from lesson planning, teaching, writing reflections, and preparing their final professional portfolios. The grit they show every day showing up, dedicated to children and themselves as a pre-professional is amazing!!!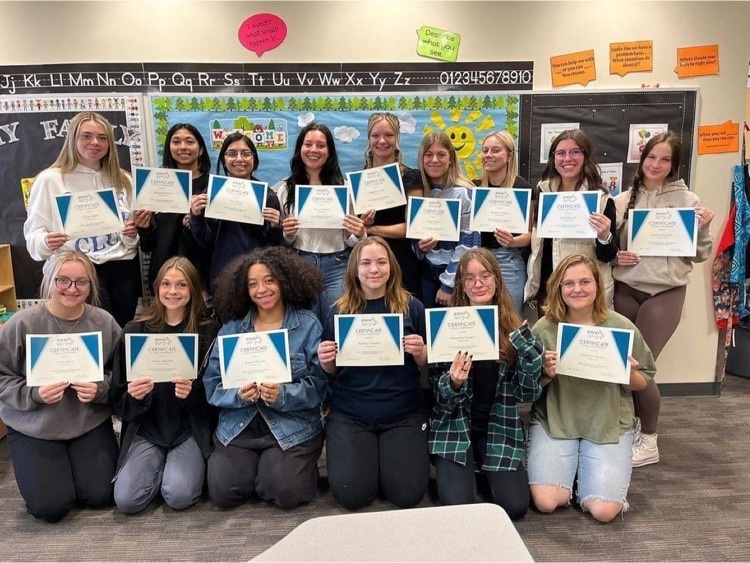 On Thursday, April 6, 2023, the Scentsy Family Foundation will presented West Ada School District's School Nutrition Services department with a check in the amount of $32,000 at West Ada's District Service Center. The donation is to be put toward uncollected student lunch balances for the 2022-23 school year. Throughout the past six months, Scentsy committed to donating a portion of sales to causes that focus on children, families, and communities. The West Ada uncollected student lunch balance was identified by the Scentsy Family Foundation as a recipient. "We're grateful that West Ada is continuing to provide lunches regardless of a child's ability to pay. We believe happy, healthy families build vibrant communities, and we want to help ensure that hungry children have access to at least one meal during the day," said Kellie Floto, Scentsy Director of Philanthropy and Community Relations. "We challenged our Consultants across the U.S. to support their local school districts, and we hope this contribution sparks more donations from businesses or individuals across the Treasure Valley." Scentsy's $32,000 donation will have a significant impact on West Ada's uncollected student lunch balance which started at approximately $100,000. Since the Dig for Change initiative in early March, the West Ada Education Foundation received approximately $15,000 in donations toward the uncollected lunch balances. "We're so grateful for Scentsy and their Foundation. We're always going to make sure our students are fed, and their generous donation helps us do that while minimally impacting the district's general fund," explained Kristen Homer, WASD School Nutrition Assistant Supervisor. Should a lunch balance remain uncollected through the end of the year, the WASD general fund picks up the tab. "A fed student is a learning student, so Scentsy is positively and directly impacting West Ada student achievement," continued Homer. @scentsy #wearewestada #proudtobewasd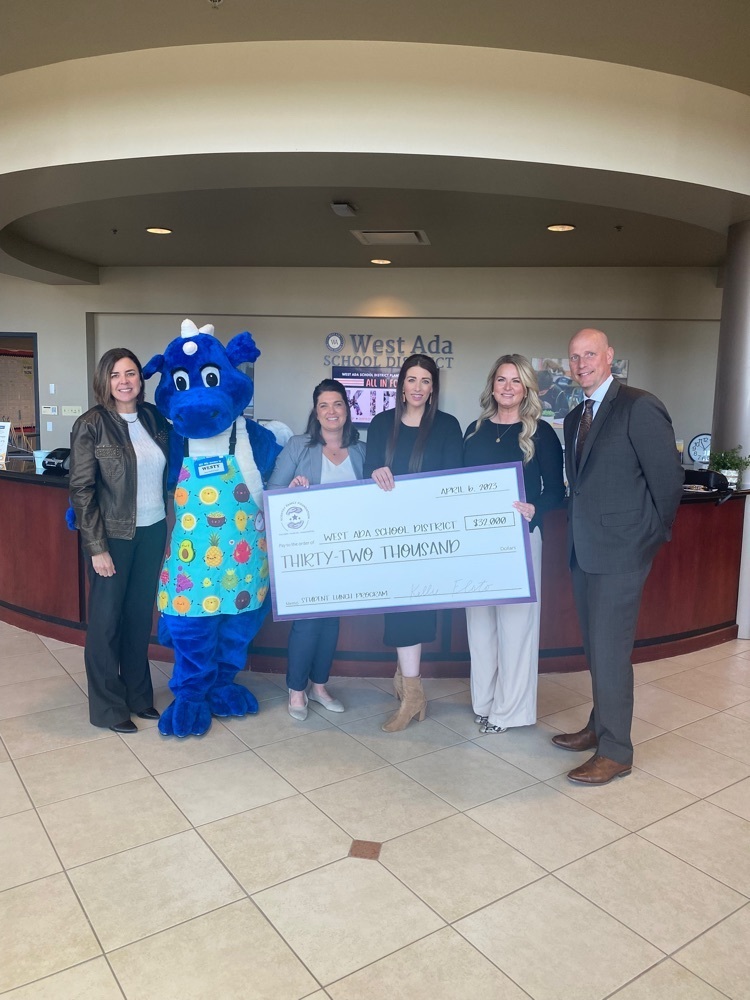 Did you miss Dr. Bub's first Listen & Learn meeting? Don't worry, we've got you covered!😀 Please visit -
https://msd2-my.sharepoint.com/.../ERBFOkm1dYRPk2DYlsnO
... - to access Dr. Bub's presentation. Still have questions? Visit our Frequently Asked Questions (FAQs) site -
https://www.westada.org/page/pfl
OR Submit an electronic question through our online portal by visiting:
https://forms.office.com/Pages/ResponsePage.aspx
... There are future meetings scheduled and we hope to see you there: • March 28 from 5:30-6:30pm at Eagle High School, Auditorium • April 11 from 5:30-6:30pm at Owyhee High School, Gym • April 19 from 5:30-6:30pm at Rocky Mountain High School, Auditorium • April 25 from from 5:30-6:30pm at Mountain View High School, Auditorium • May 4 from 5:30-6:30pm at Centennial High School, Gym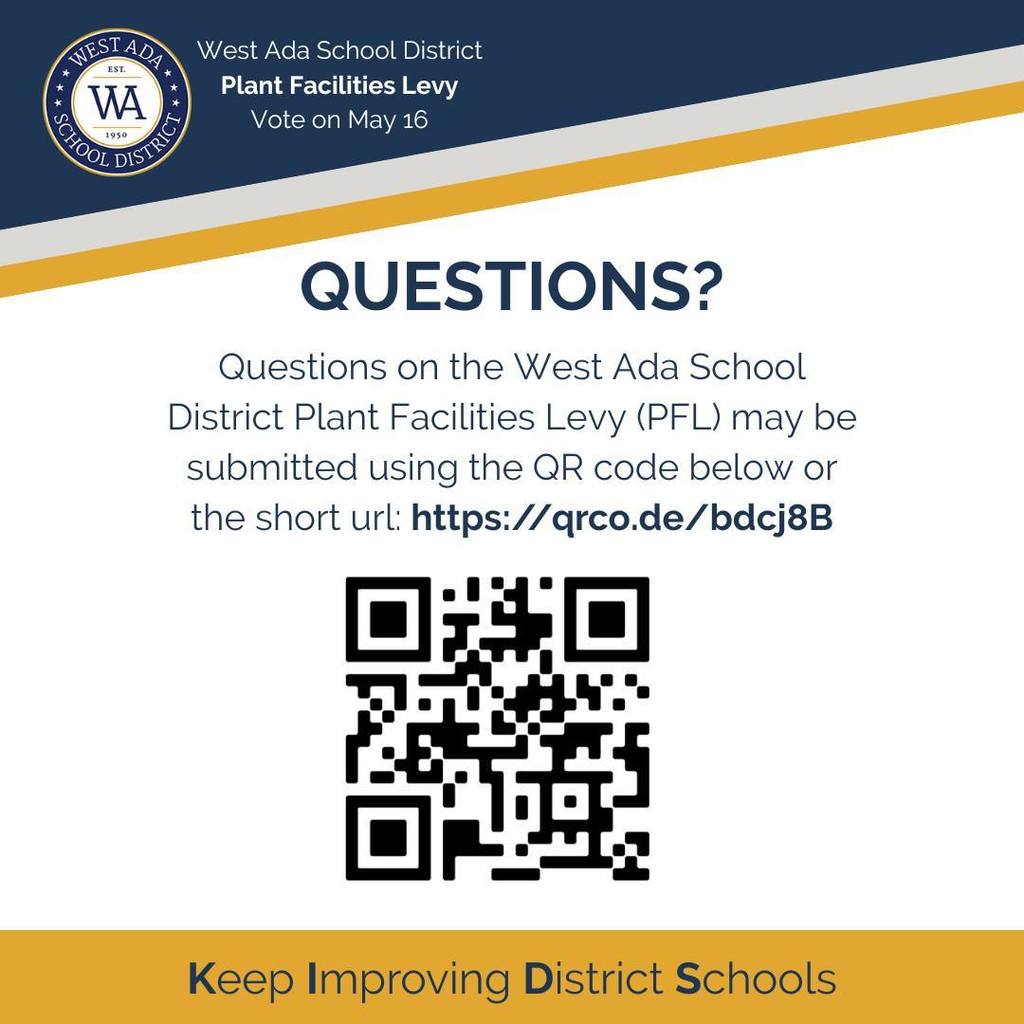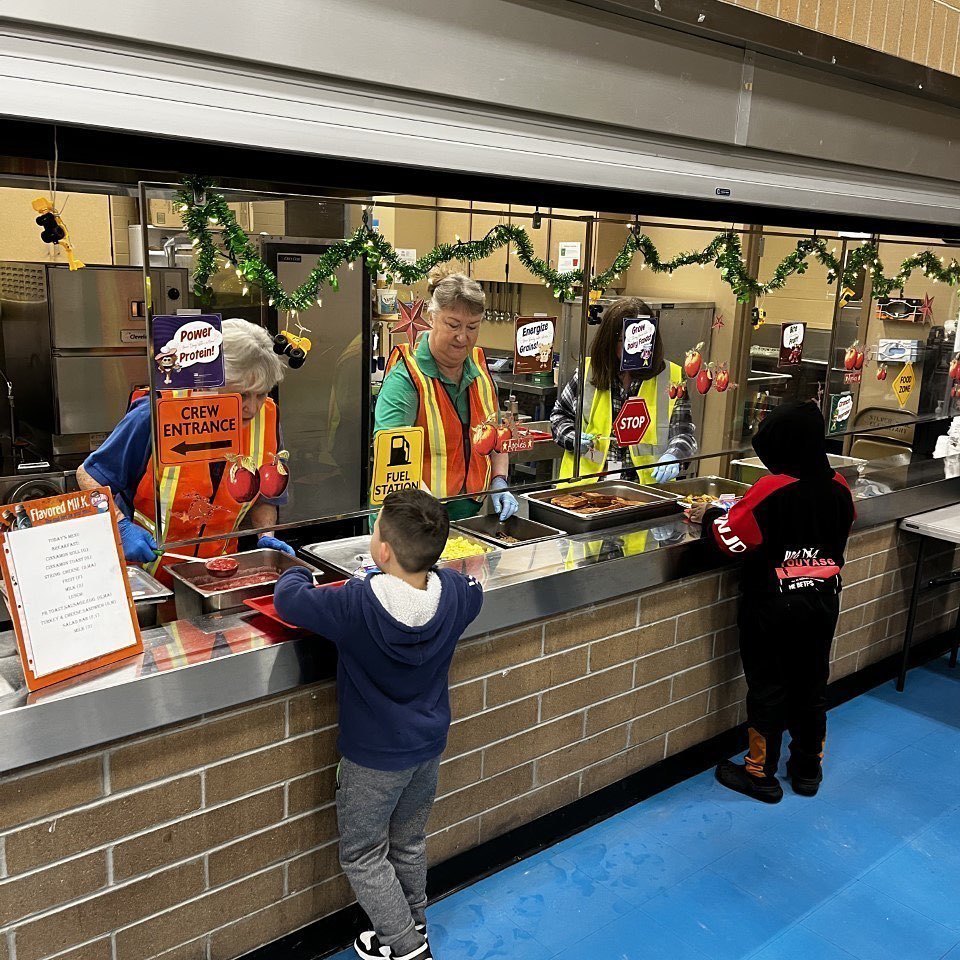 Do you have questions on the upcoming Plant Facilities Levy (PFL) ballot measure? We invite you to one of our upcoming Listen & Learn sessions to discuss the PFL as we focus on providing a safe and sound educational environment for all students and address growth and repair in the district. • West Ada School District is proposing a Plant Facilities Levy (PFL) in the amount of $50 million dollars over 10 years to move forward with a number of key facility improvement projects. For more information and project details visit
www.westada.org/PFL
Election Day is May 16, 2023. You can register to vote, request an absentee ballot, view your ballot and find your local polling station at Ada county.id.gov/elections/how-to-vote/ Please note: Comments for all West Ada PFL posts will be turned OFF under the guidance of West Ada legal counsel and in an effort to maintain Idaho Statute section 74-605: Public Integrity in Elections Act #wearewestada #proudtobewasd #westadapfl #plantfacilitieslevy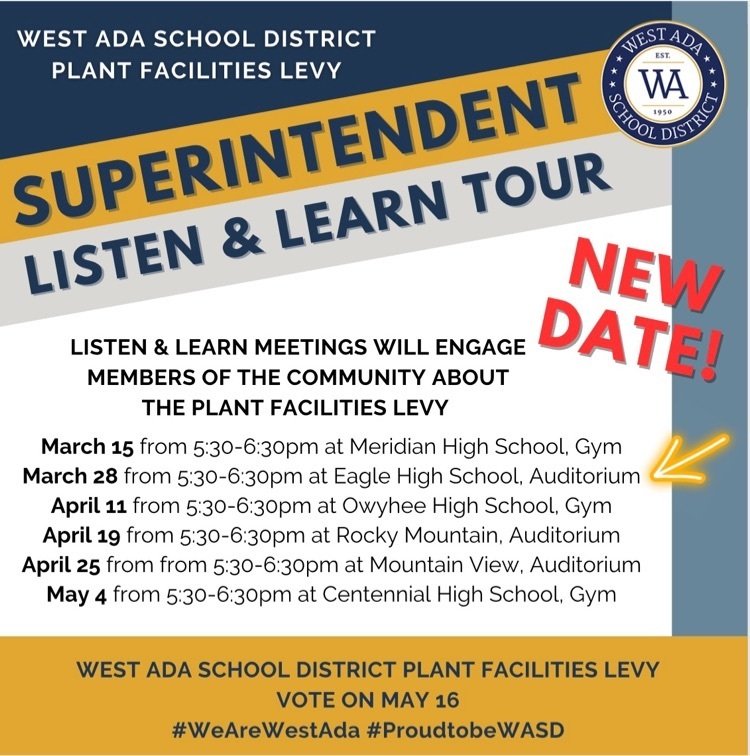 Calling all prospective teachers!!!!! L💙VE WHERE YOU WORK!!! West Ada is hosting a Job Fair for certified positions - TEACHERS!!!! Join us on March 29 from 4:30-6:30pm at the District Service Center - 1303 E Central Drive, Meridian. Representatives from throughout West Ada and current building administrators will be on site to do interviews and hiring on the spot!!! Please contact Jennifer Fletcher -
Fletcher.jennifer@westada.org
- with any questions or to apply today.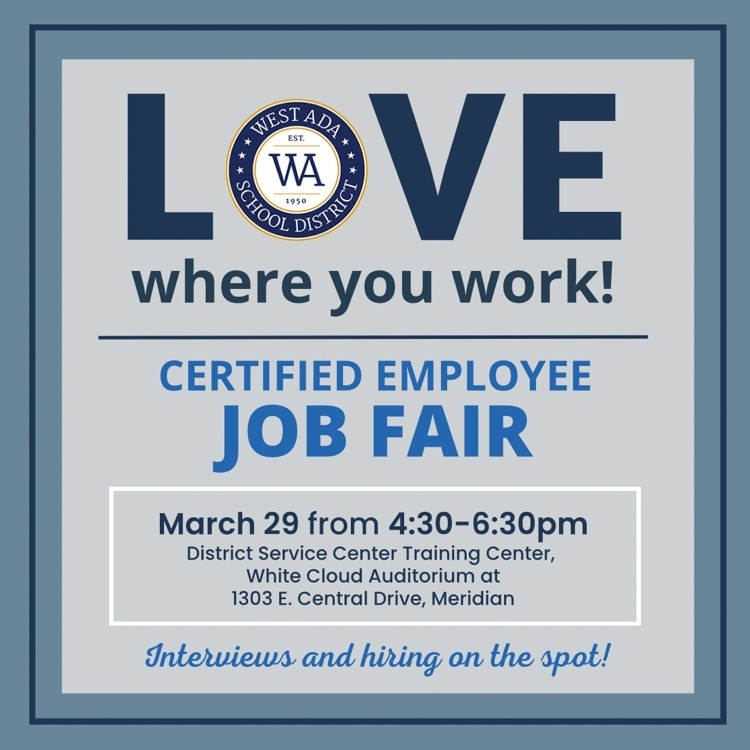 It's National Social Work Week. Thank you to our dedicated social workers throughout West Ada School District who go above and beyond to support our students and families. Thank you for all you do. #wearewestada #proudtobewasd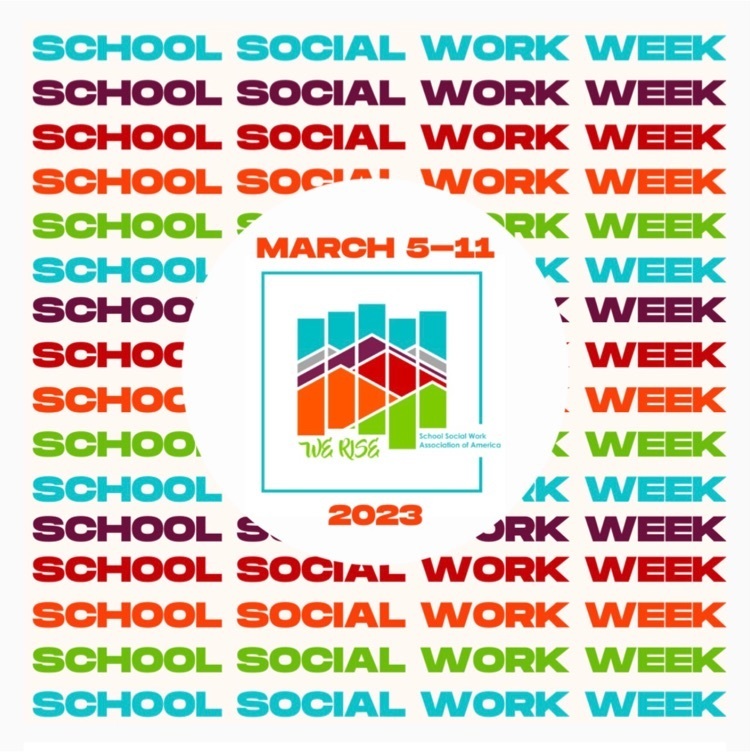 The Idaho Career & Technical Education Foundation is hosting a 2023 CTE Scholarship Fundraiser. West Ada has donated a Children's Playhouse for auction. The playhouse is 5' tall and 4' deep and is built by the West Ada CTE construction trades students. The buyer can pick the paint color of the playhouse. Support Career & Technical Education (CTE) today and check out the various auction items available or to make a charitable donation.
https://ictef2023scholarships.afrogs.org/#/index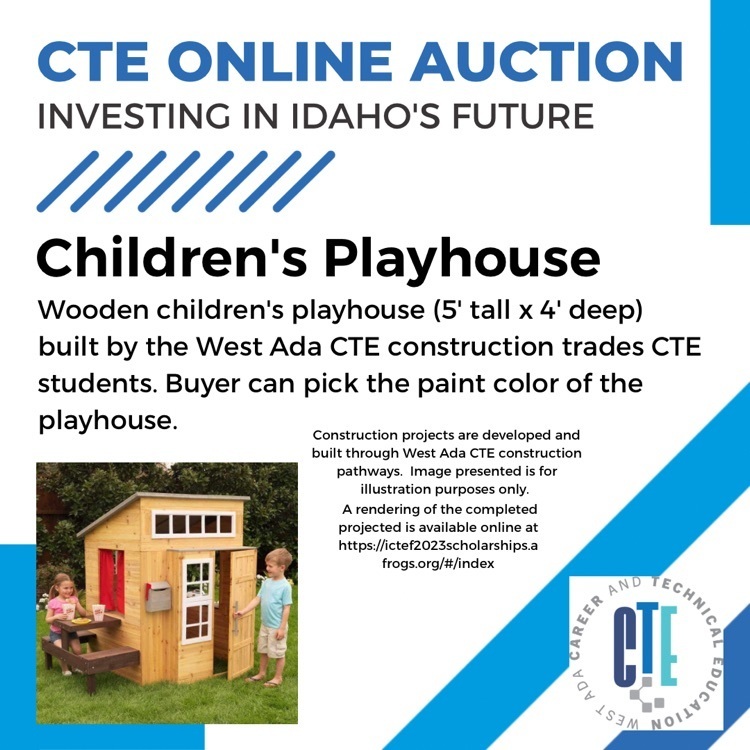 Students! Parents! Tutor.com is more than just a tutor, it can also help with teaching students important study skills like organization, work completion and note taking. For more information and instructions on how to login head to
www.westada.org
> Parents & Students > Tutor.com. Remember, students in grades 3-12 have FREE access 24/7.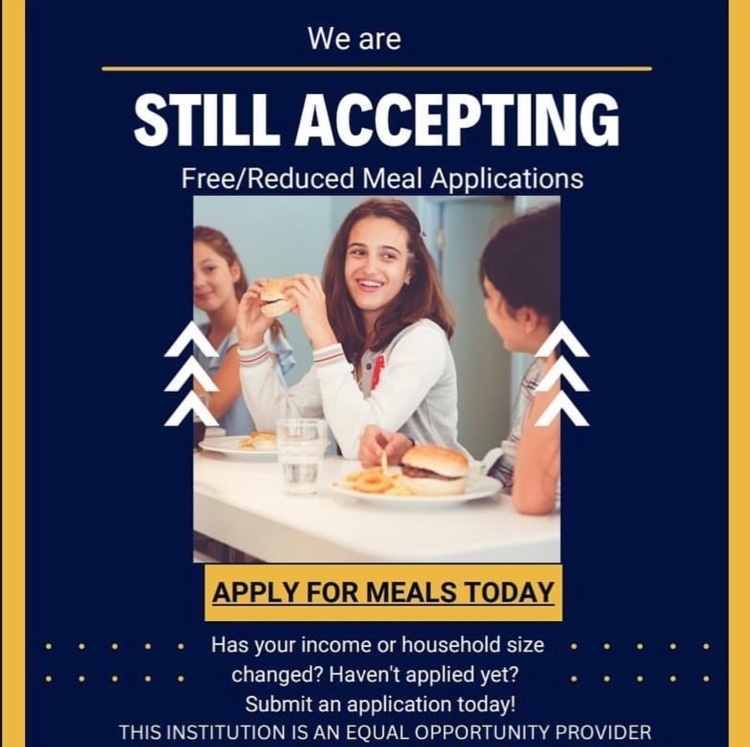 Advanced Opportunities Nights are offered for all West Ada students and families in grades 8-11. This night is provided to students and parents to learn about advanced opportunities before high school registration in February. Parents and students interested in learning more about high school honors, Advanced Placement, concurrent credit, IB courses, or career and technical education courses, should plan on attending! For more information please visit:
https://www.westada.org/page/advanced-opportunities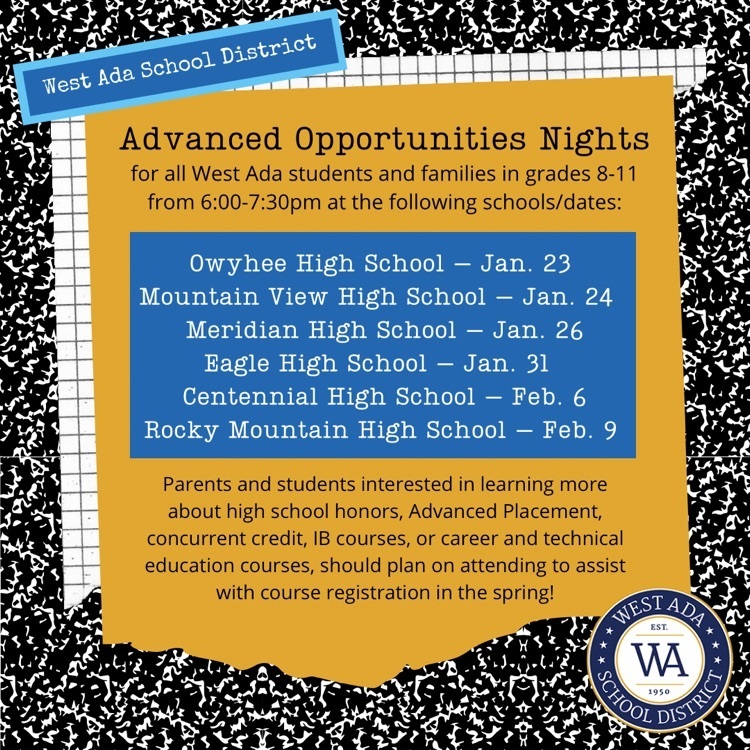 Congratulations to the students who will represent Idaho on the national level as our state's delegates for the United States Senate Youth Program (USSYP)! Our USSYP delegates are Emma Brulotte and William Tadje, with Avery Charles serving as 1st alternate and Amaia Clayton serving as 2nd alternate! "I'm so pleased to see Idaho students taking notice, taking part and really engaging with what's going on in Idaho and around the county. Seeing these students participate in civic programs should give us all confidence that the future for these kids, and for Idaho, is bright," Superintendent Sherri Ybarra said. "I'm also pleased to say that I have been fortunate enough to have Emma Brulotte's leadership as a member of this year's Student Advisory Council." Students selected for this prestigious and highly competitive program are chosen for their outstanding academic performance and demonstrated leadership in their school or community. Two delegates from each state and DC will receive a $10,000 scholarship and will participate in Washington Week, an opportunity for these young leaders to meet with high-level officials from each branch of government. We are very proud of our delegates and alternates for their achievements as student leaders! William Tadje is a senior at Eagle High School in the West Ada School District; Emma Brulotte is a senior at Canyon Ridge High School in the Twin Falls School District. Avery Charles is a senior at Eagle High School and Amaia Clayton is a senior at Renaissance High School in the West Ada School District.

Interested in learning about what CTE programs are offered in West Ada? Please join us on Monday February 13th from 5-7pm to learn about the programs and see the facilities our students get to learn in. Refer to this flyer for which programs are located at which campus. We look forward to seeing you there! #WestAdaCTE #openhouse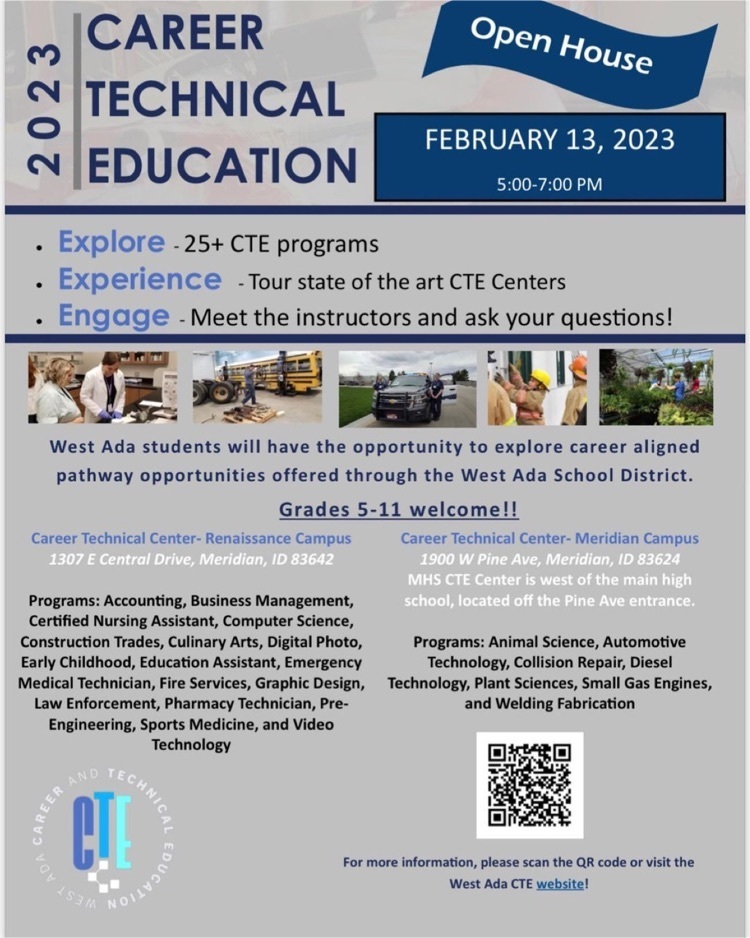 West Ada is hiring!!!!! Refer a friend today!!!! Referred applicants must apply for a current CLASSIFIED OPENING and be hired after January 1, 2023. Upon being hired, applicants must work for WASD consecutively for three months in order for the referring employee to be eligible to receive $250. Only current West Ada employees are eligible to receive a finder's fee. There is no limit to the amount of people an employee can refer! Refer 10 people, receive $2500! Scan the QR Code to refer a friend today!

Happy Holidays from West Ada School District. ❄️ ❄️ ❄️ district schools and offices are closed beginning December 21 through January 3. School resumes on January 4, 2023 (B Day).

Congratulations to the West Ada Finance Team and the district for receiving the 2022–2023 Meritorious Budget Award (MBA) from the Association of School Business Officials International (ASBO). The district's participation in the MBA program for the past 22 years is a testament to our commitment to sound fiscal management and budgetary policies. #wearewestada #proudtobewasd